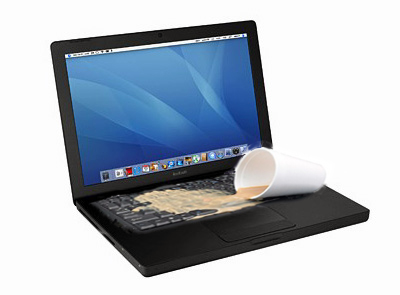 Many people treat their Macbooks as an extension of themselves. Users keep their favourite music and pictures stored on their Macbooks, as well as use their computers keep in touch with loved ones and stay up to date with work. This is why a spill can be a serious situation for most Macbook users.
Getting a Macbook wet could ruin the computer if not taken care of quickly and carefully. In the event that a drink or other liquid is spilled on the computer, it is important to first shut off all power and remove the battery. If the power is allowed to remain on, there is a good chance that a short will occur inside of the Macbook. If the battery appears wet, set it in a safe, dry place and allow it to fully dry.
Once the power has been turned off, place the Macbook in a safe place and also allow it to fully dry. Depending on the severity of the spill, the Macbook will need to dry for a few days, but may take up to a week. Even if the computer seems dry after a few hours, there is a chance that there is still moisture remaining within the computer. If the computer is powered up when it is still wet, it is likely to short out. Additionally, if a Macbook experiences a short due to a spill, the damage may not be covered under warranty. Users should carefully read their warranty to check if a spill is or is not covered.
While it may make sense to disassemble the Macbook to allow it to air out, this will void any warranty that a user does have. Therefore, it is extremely important to simply let the computer dry for a few days, without taking it apart or turning on the power. However, if a user is certain that a spill is not covered by their warranty, then they may benefit from dissembling and manually drying the Macbook. While doing so, keep in mind that the Macbook will still need adequate drying time, as it will be impossible to remove all of the moisture from within the computer.
Once the Macbook has been allowed to dry for a significant period, it may then be powered on. Once the Macbook has been powered on, the user should then test the machine to ensure that it is working properly. If the machine will not turn on or is not working properly, it will need to be brought to a professional. While a spill can be detrimental and expensive, allowing for adequate drying time and enlisting the help of a professional can save a Macbook user from permanently losing their computer.